Shockwave Therapy in Langley
Shockwave therapy is a technologically-advanced alternative to surgery and cortisone injections. Not only is it non-invasive, it's safe and gentle. A shockwave is a high-energy acoustic wave that transmits spherically into body tissues. The treatment is carried out through an ultrasound machine, which helps to stimulate new and increased blood flow to treated areas.
Benefits of Shockwave Therapy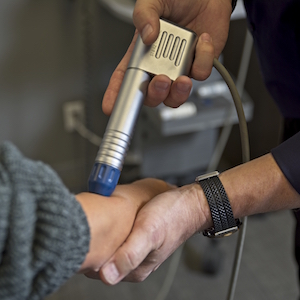 Lifeforce Proactive Health Centre successfully uses this technique to help patients heal rapidly from soft tissue injuries that are close to the bone. This therapy is revolutionary, and accelerates the body's own self-healing mechanisms.
Here are some of the many conditions we treat through shockwave therapy:
Achilles tendonitis
Calcifications
Chronic heel pain
Connective tissue disorders
Foot pain
Frozen shoulder
Heel spurs
Plantar fasciitis
Tendonitis
If you're having difficulty with any of the above conditions, we encourage you to give shockwave therapy a try. Contact us today for a convenient booking!
CONTACT US »


Shockwave Therapy in Langley | (604) 530-6227