Custom Orthotics in Langley
Customized foot orthotics help to maintain and restore structural and functional balance to the entire musculoskeletal system. Everything in the body is interconnected. If the feet have lost structural integrity, this can easily affect the shins, ankles, knees, hips, back and neck. Children, teens, adults and seniors alike benefit from these stabilizing and corrective inserts.
Benefits of Orthotic Therapy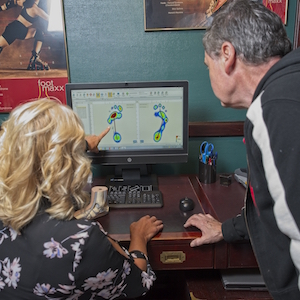 Our chiropractic care centre specializes in FootPrints® Orthotics. These dynamic stabilization units help treat or prevent
Bunions
Gait problems
Heel spurs or broken sesamoid bones
Hip instability
Knee pain
Limited sensation to the feet due to diabetes
Low back pain
Neuropathic foot pain
Plantar fasciitis
Shin splints
Fitting Your Custom Orthotics
Lifeforce Proactive Health Centre uses technologically-advanced methods of diagnostic evaluation to create the orthotic that is perfect for you. Inserts that are produced through this precise testing are usually thinner and lighter. They can easily and comfortably be worn in everyday shoes.
We offer orthotics inserts for
All types of shoes
Arthritic feet
Sandals
Sport shoes, skates and ski-boots
Those requiring accommodative inserts for diabetic complications.
If you'd like to learn more about FootPrints® Orthotics, please contact us. For a painless evaluation, contact our chiropractic care center for a professional screening! Most extended health plans provide orthotic coverage. RCMPs are currently approved for one pair of orthotics per year.
CONTACT US »

Custom Orthotics Langley | (604) 530-6227