Laser Therapy in Langley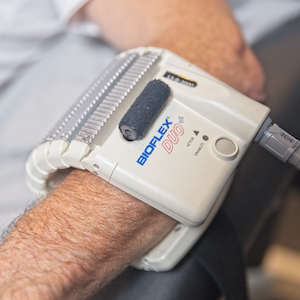 At Lifeforce Proactive Health Centre, we're proud to offer laser therapy for those suffering from acute or chronic pain, arthritic conditions, and those with limited mobility problems. We provide the best in advanced technology in the form of LaserCare™ Therapy to assist you in your healing journey.
LaserCare™ Therapy is Safe and Painless
Here's how this therapy works: A monochromatic light source is placed in contact with the skin to send photon energy into the cells. Inside the cell, the light energy interacts with a variety of biomolecules. The purpose of this interaction is to restore normal cell function and help you heal more rapidly.
Typical results include:
Faster healing time (as much as 70%)
Freedom from pain
Increased joint mobility and range of motion
Reduced inflammation
Renewed vigor and energy
Our Treatment is Customized
One of the greatest attributes of Low Intensity Laser Therapy (LILT) is that we can customize your treatment to your specific condition or symptoms. Your LaserCare™ professionals will measure your progress and make appropriate adjustments based on your individual response. As this gentle treatment begins to restore health to injured tissues, pain and swelling begin to diminish.
Benefits of LaserCare™ Therapy
This therapeutic approach to acute or long-standing musculoskeletal issues can make all the difference in restoring your wellness potential. Patients most likely to benefit from LaserCare™ include those enduring
Acute or chronic tissue damage
Chronic pain accompanied by joint loss of motion
Recent traumatic injury
LaserCare™ Therapy is also very useful for those requiring pre- or post-surgical repair. Whether you've been in a recent accident or have suffered from pain for many years, we can help. Please contact our office today!
CONTACT US »

Laser Therapy Langley | (604) 530-6227