New Patient Centre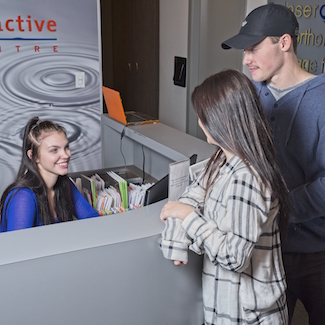 If you're visiting our Langley chiropractic care centre for the first time, we'd like you to know exactly what to expect. We want to make you feel secure and comfortable, and glad that you made the choice to allow us the opportunity to be your family practitioners.
You'll find that our practice is different than others you may have visited. Connection, communication and validation of your needs is very important to us. We believe that trust is an important factor, and we strive to achieve that with all our patients over time. Throughout the past four decades, we've seen three generations of families come through our door. We hope to gain your trust as well. You have the option of downloading the paperwork online and filling it out beforehand.
Your First Visit
As you enter the practice, you'll be warmly greeted by one of our clinic staff, who will invite you to take a seat to complete any new patient paperwork.
You'll then be escorted to one of our consultation/examination rooms where you'll undergo a complete assessment, including
A detailed health history and consultation with one of our doctors
A postural analysis and thermography scan by an exam technician
A non-invasive examination by the doctor based on your scan findings
Recommendation for pain relief
As you leave for the day, your next appointment will be scheduled with our patient care coordinator.
Your Second Visit
During your second visit, the doctor will evaluate your examination and scan findings to help you understand the source of your problem. Your doctor will then discuss customized treatment options to help you meet your stated goals.
This visit will conclude with your first gentle chiropractic adjustment and any necessary therapies to help you get out of pain as quickly as possible.
Subsequent Visits
We always begin treatment with relief care; the goal is to get you out of pain quickly and efficiently.
Once your symptoms have been eliminated, the next phases of treatment are corrective and proactive care. This is when you're at your most vulnerable; as you begin to feel good it's natural to want to drastically increase your everyday physical activity. To do so, however, is not advisable until the spine and soft tissue has undergone correction and restored stability.
Our office is known as a destination for many people as they seek the best in chiropractic care. We want to invite you and your entire family to visit with us and have the experience of a vital health capacity. Contact us today to book your appointment; we're open Monday to Saturday!
CONTACT US »

Chiropractor serving Brookswood and surrounding Langley communities