Massage Therapy in Langley
Lifeforce Proactive Health Centre
offers professional therapeutic massage for a variety of issues. Here are just some of the conditions we successfully treat:
Carpal tunnel syndrome
Connective tissue disorders
Fibromyalgia
Headaches
Issues related to pregnancy
Low back pain
Plantar fasciitis
Postural problems
Sports injuries
Strains and sprains
Stress-related disorders
Whiplash
BOOK YOUR MASSAGE APPOINTMENT ONLINE »

Your First Visit
Your first visit will take approximately 60 minutes. One of our registered massage therapists will conduct a consultation and thorough assessment. We want to understand your concerns and the goals you want to achieve.
This interview will be followed by your first treatment session. You'll also be given specific exercises to implement at home for a proactive recovery. Before you leave, a customized treatment plan will be discussed to help you reach your stated goals.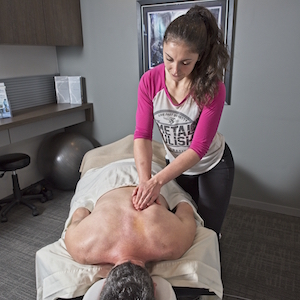 An Array of Choices
We provide an array of therapeutic massage styles, depending on personal preference and individual issues:
Deep tissue
Myofascial release
Pre- and post-natal
Sports
Swedish relaxation
For additional information on massage and its benefits, please visit the Registered Massage Therapists' Association of British Columbia website. Our therapists have years of experience and can help your body to heal brilliantly!
Contact us today for an appointment; we're open late.

Massage Therapy Langley | (604) 530-6227